June 23, 2005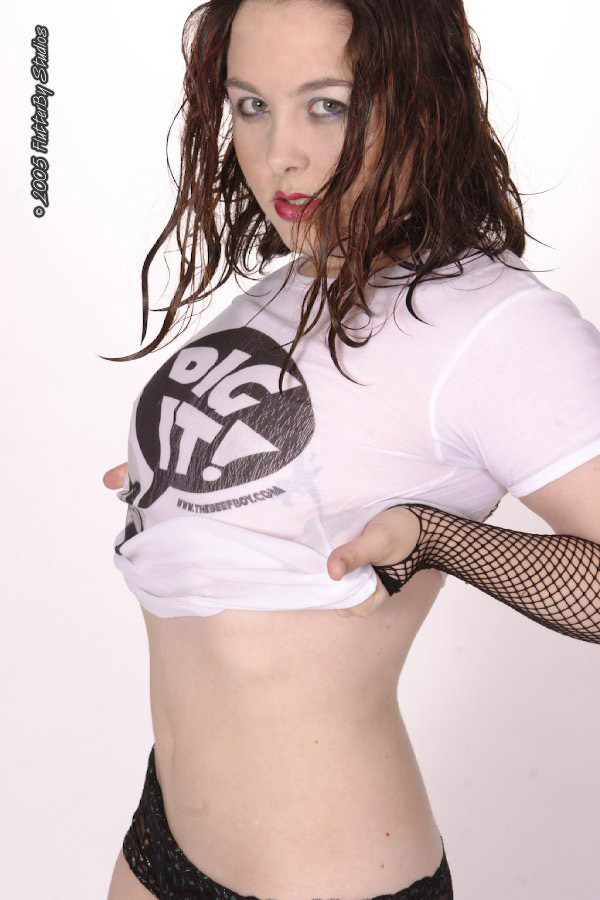 -Hello Beefanatics! It's your favorite infidel, back for some rants. If you'd like to see what I'm doing that's keeping me from updating more often, please visit here.
How awesome is that photo of Lady Atropos? And yes, that's a Beefboy Babydoll Tee she's wearing too! Just for the record, wet T-Shirts are GOOD. I'd like to thank Lady Atropos and Flutterby Studio for sending me (and you) such great photos! If you'd like to see more from the shoot, I've made Lady Atropos this month's inductee to the Toxic Goddess Hall of Fame!
Are you telling the Beefboy that I stop talking for two weeks and suddenly Dancing with the Stars is the number one show in America?!!! What the fuck?!! Don't any of you have something to do? I'm not talking about curing cancer (although that would be nice) but, maybe turning off the tube and taking a walk would be a good idea (or hey, you could write the Beefboy an email).
Did I just go to sleep and wake up in the 1980's? Michael Jackson is all over the news, Mike Tyson is fighting and A Flock of Seagulls is performing on TV! Why do we feel the desire to relive the past? It's never as good the second time around.
Michael Jackson used to be this kind talented wonderkid and now he's this fucking alien pervert you have to shield from your kids. Mike Tyson used to be an amazing athlete with an inspirational success story. Now Tyson is a washed up thug, who is a greater threat to himself than anyone he could meet in the ring. Finally, brought to you by Rogaine and Viagra, we have Hit Me Baby, One More Time, where groups like A Flock of Seagulls, who used to be... okay, A Flock of Seagulls always sucked. In any case, we're bringing back marginal talent from the eighties to see how fat and bald they have become, and to highlight how little talent they had in the first place.
Despite the fact that I'd like to see Jessica Simpson's ass "reimagining" the Daisy Duke jean shorts, do we really need to retread The Dukes of Hazzard? Do you really want to relive Big Hair, calf warmers, Nuclear Winter and RATT?!! It's time to let go of the past and come kicking and screaming into the 21st century kids! It will be alright, the Beefboy will protect you.
-I'm sure it's no surprise to learn that 40% of French men would like to become pregnant. In a related story, some French marketing and design firm has proclaimed the death of the macho man. They say that modern men would rather wear a pink shirt and suck cock. I say that the death of the macho man is highly exaggerated! The Beefboy is the only macho man you need, ladies!
-Bewitched, Herbie: Fully-Loaded and Land of the Dead opens this weekend. Dead is getting almost no press next to the other two creampuffs, which the media is drooling on. I'd like to encourage everyone who reads this to go see Land of the Dead so that on Monday, the media has to report that Dead devoured the competition this weekend!
-Let's see if I've got my math right. Jennifer Wilbanks, the bitch bride who ran away, caused a massive manhunt (which cost an estimated $30,000) and lied to police, was convicted of the felony of making a false statement and ordered to do 120 hours of community service and pay a fine of $2550. Then she does an interview with Katie Couric and signed a book and movie deal for $500,000!!! That's a net gain of $497,450! So, what's the lesson here? If you can come up with a criminal plot where get you enough press, you can become fabulously wealthy! Are the wheels turning right now? That slag shouldn't be allowed to make a nano-cent off her escapades. Fuck her!
And fuck Katie Couric for giving this criminal nobody a FULL HOUR INTERVIEW IN PRIME TIME! Can you really justify giving Jennifer Wilbanks more than a five minute brush off interview? When is the last time you've seen a world leader get a one hour primetime interview? Can our priorities be any more fucked up? I don't think so.
-Hey, here's a cute little story that might be slightly more important. Apparently the United States have trained a number of Mexican commandos, who were supposed to help against drug cartels and human smuggling. Now, Los Zetas have switched sides and working for the same fucking cartels they were trained to fight! Furthermore, they are responsible for killing over 500 people in Mexico this year and are a particular threat to our police and soldiers in Texas, New Mexico and Arizona!
In light of the deeply moving and terribly important Jennifer Wilbanks interview, I have to ask the Beefanatics a few questions. Where is the hour long primetime interview with President George Bush, asking why he slobbers on Vicente Fox's schlong every time he comes over the border? Where is the hour long primetime interview with Vicente Fox asking why he routinely takes it in the ass from Mexican drug lords? Where is the hour long primetime interview with Donald Rumsfeld asking why he's training our enemies? Where is the hour long primetime interview with the Minutemen, who seem to be the only people who give a shit about any of this? And finally, where is the hour long primetime interview with the Katie Couric and the mainstream media, who have decided that Jennifer Wilbanks and Michael Jackson constitute deeper news relevance than Los Zetas, drug lords, and the hundreds of thousands of illegal aliens who are flooding across our borders without any resistance, while our schools, hospitals and prisons go bankrupt?
Dig it!
June 5, 2005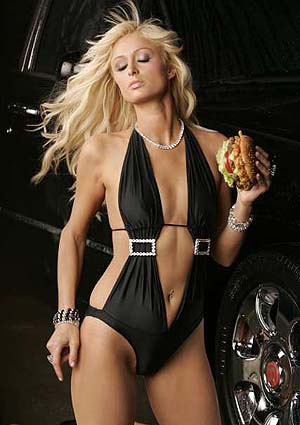 -I've been buried with work on several projects lately. Sorry to everyone who has checked in and hasn't seen anything new! Also, I haven't sent out the first round of stickers, but I will do that in the next few days. If you want some stickers, get in touch with the Beefboy soon (info above)!
-Once again, I'm talking about Paris Hilton, that girl has a way of getting national attention. First she shows up in a Carl's Jr. ad. It's a rare occasion that I go to a restaurant site, but it's not easy to find the ad on air after the Christian Thought Police (the Parents Television Council, among others) started bitching. The Beefboy thinks that L. Brent Bozell III, of the PTC, got a little "stiffy" when he watched the ad and immediately apologized to God and flagellated himself until his wood subsided, then went directly to the phone to call for some action. Anyone who gets in such an uproar over something so fucking mundane needs a hooker... STAT!
Wait a minute! Hardcore religious nutsacks need little boys! What was I thinking?
Next, we find out that Paris has gotten engaged to a pasty blond pansy named... Paris! I can't make this shit up! She also wants to have kids. So... say goodbye to THAT body too! They're dropping like flies, boys and girls.
-Speaking of holy-roller nutsacks, Tim Wildmon has announced that the American Family Association has decided to cancel the nine year long boycott of Disney. What? You didn't know that Disney was under a boycott? That's because it didn't fucking matter! Everyone involved in the American Family Association should stop paying dues immediately and find something to do with their lives! You're irrelevant! And ignorant! The Beefboy is glad to help you out.
-Have you heard about the seven year old Florida boy who killed his 7 month old sister? Have you heard all the panty-wearing psychoanalysts who are preaching compassion for the boy? I say mulch that little fucker! By seven, I certainly knew better than to kill someone. There's no hope for that little shit, he should be used for stem cell research.
-A teacher in Atlanta had a 10 year old boy lick and kiss her toes in class, then gave him candy! Look, the Beefboy is one kinky fucker, and to each his or her own, but where in the world is this sort of thing acceptable? That teacher should be fired, then she should find someone her own age to play with. I'd suggest going here.
-Here's something else in the "I-told-you-so" department. "Blind Justice" was cancelled this season. How did I know that before the first episode was even aired? Because I'm a fucking genius! Either that, or television executives are abject morons- take your pick.
-The national PTA suggests changing the game "Tug of War" to "Tug of Peace"! Teachers are encouraged to use purple ink instead of red ink to grade papers, because red ink has "negative connotations". You're fucking right, red has negative connotations! The connotation is that you made a fucking mistake! Fix it and get over it! The Beefboy has had enough of the this Newspeak horse shit! Do you want a nation full of Richard Simmons? Just keep doing what you're doing! Good luck finding anyone with enough stones to kill terrorists in twenty years!
The only "Tug of Peace" that the Beefboy is going to sanction, involves Angelina Jolie's hands, and my fat swollen cock!
Dig it!
May 18th, 2005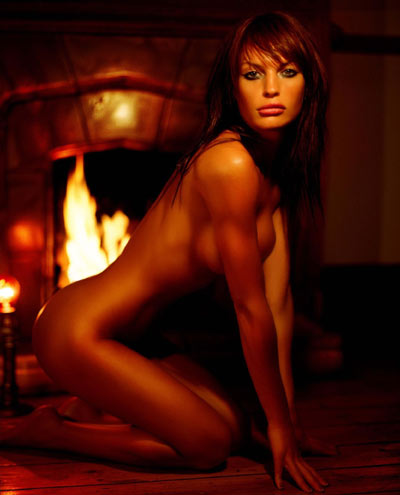 -I'm going to geek out a bit and give you a few "I told you so's" today.
-The final episode of Enterprise was terrible! Are you shitting me? I was one of the twelve people across the nation that was watching that show, and what was my reward? They needlessly killed off one of my favorite characters and squashed the relationship they had been working on for four seasons. Hey! To Paramount and the producers of Star Trek: Enterprise... FUCK YOU!!! I'll miss seeing Jolene Blalock on a weekly basis, but she's hot enough to have a life after Trek.
-Speaking of Star Trek, I think the quintessential nerd prototype, or "the Trekkie", should be applied across the board to anyone who is overly obsessed or overly identifies with something they are not. Allow the Beefboy to explain.
When Star Wars debuted in 1977, I remember thinking how nice it was that Star Wars fans enjoyed the franchise without acting like nerds... well, that's no longer the case. Now Star Wars fans are the new Trekkies. I'm not even giving them a variation on the name like "Starzies" or "Warzies". They're just fucking Trekkies!
I'm not done. I live in a state where where people who have never milked a cow, much less even seen a farm, habitually wear cowboy hats and drive pick-up trucks like they're cowboys. You know what? They're Trekkies.
I saw a guy who had a sponsor painted on the hood of his pickup, like his favorite NASCAR driver! He had the NASCAR numbers all over his truck too. TREKKIE!
-Speaking of Star Wars, the press has picked up on the storyline of Revenge of the Sith and a quote from Anakin where he says, "If you are not with us, you are my enemy," which echoes Bush's "You're either with us or you're against us" line from a recent speech. They suggest that George Lucas is getting political with the latest film and equating Darth Vader with Darth Bush. While Lucas is probably a lib, he explains that all this shit was written a long time ago in a galaxy far far away (during the Nixon administration) and that all this is just people sticking their personal politics in a space fantasy.
I say it's not only political nutsacks who have to find divisiveness in fucking EVERYTHING. There's a couple of much more simple explanations. First off that line that Bush said (you're either with us or you're against us) is a line I've heard a hundred times over the past thirty years in numerous B movies. It's indicative of the lousy speech writers Bush has and tells you how shitty Lucas is at writing dialogue with any semblance toward originality! If there's any connection between Bush and Lucas, it's the fact that they both need better handlers.
-Are we close to catching bin Laden? Al Libby's contacts are reported as "hot" (although, probably not as "hot" as Paris' contacts).
-Okay, I told you so! Immediately following the runaway bride debacle, I told Jennifer Wilbanks husband-to-be (and you) that she had no character and since then I've been totally justified in that statement. There's stories coming out now that she went to New Mexico because she wanted to fuck an old flame. She also broke off a previous engagement and has a criminal record with three instances of shoplifting... one of which she did time for. Basically, Jennifer Wilbanks is a lying slut and anyone who wants to make her some kind of hero needs to seriously examine their own problems.
-More, "I told you so's". My latest feature article tells you that our government has failed us in the investigation of the Oklahoma City bombing. Now Terry Nichols has fingered a new co-conspirator! A totally unrelated story suggests that there may have been a connection between Tim McVeigh and a white supremacist group, and that the FBI is withholding evidence! The FBI just recently recovered explosives at Nichol's former home in Kansas (ten years later)! If you're not on top of this story, you are missing one of the biggest stories in American history. The Beefboy is doing everything possible to keep you informed, because the mainstream press has seriously dropped the ball on this one. Representative Dana Rohrabacher of California is looking into opening hearings on the Oklahoma City bombing and needs your help! Please call or write your local congressional representatives and help me stir up some attention on this story!
Dig it!
May 4, 2005
-The United States government has insulted us again, by not only releasing a new food pyramid... but releasing 12! Fuck that shit! When has the government ever been right about cutting fat? The Beefboy is going to give you a plan guaranteed to help you lose weight, and I'm not charging anything for it. Are you ready? Eat less and exercise. See? Wasn't that easy? Since I figure that I have just as good a track record at weight management as the politicos, the Beefboy has created his own food pyramid (see above).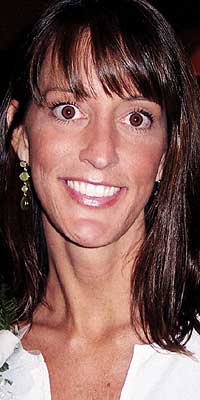 -Now on to Georgia's runaway bride, Jennifer Wilbanks, or more specifically, to her groom-to-be, John Mason. You see, what John doesn't realize is that he's just been given the best wedding gift he could ever receive! Now he knows the character of his bride. She's fucking abysmal under pressure, she's secretive, she's a liar and she's a terrible actress. Fuck that cunt! Get away! Far away! NOW, YOU FUCKER! Be a man John, if you take her back now, then you deserve your fucked-up life with that crazy bitch. (Maybe we can get Tom Delay to get the whole fucking legislature back at midnight tonight, and pass some legislation to make marriage between these two illegal... I'm sure Bush would sign it.)
-Did I get a letter from Adrianne Curry? I've posted the letter in the Octagon section, and you can be the judge.
-Early reports say that the new Star Wars film is a bloodbath! I sure hope so.
-I've got a few comments about Kingdom of Heaven, and none of it really has anything to do with the movie. Would someone please give Ridley Scott an Academy Award so that he will stop trying so hard to make a movie that will earn him an Academy Award? I'd like to see him return to science fiction before he dies. And Orlando Bloom has got to find a film where he's not carrying a sword before he becomes the Hugh Grant of the period films. Finally, the Beefboy has been hearing a number of ads touting Larry King's opinion of Kingdom of Heaven. Now correct me if I'm wrong.. but who gives a fuck what Larry King thinks about a film! King is a passable fluff interviewer, at best! Let's keep things in perspective kids.
-Speaking of keeping things in perspective, American Idol is going to face a big controversy tonight when ABC reveals that Paula Abdul was screwing some nutsack contestant. You'd think that we found out that CNN was being run by al Qaeda. Does anyone look to American Idol as a serious musical endeavor? Does anyone over the age of 13 really sweat the results of that program? I think it's great that the ABC special tonight will have more viewers, and cause more outrage than the stories about the Minutemen and the missile that North Korea's micropenis weasel Kim Jong Il fired near Japan.
Your idol is right here America, and he's telling you to WAKE UP!!!
Dig it!
April 27, 2005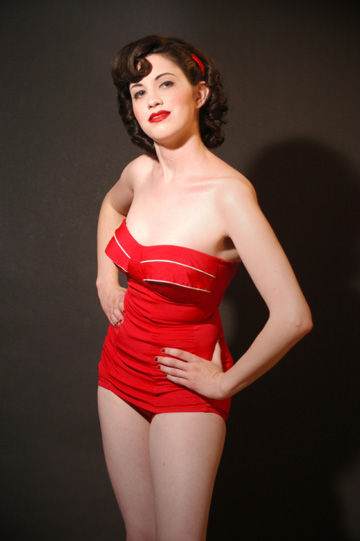 -I've got a full deck today, so hang on!
-Did you forget that it's Dulciepalooza? Shame on you! To wrap up Dulcie Younger's month, I'm introducing a new page, Dig It!, that offers reviews on CDs, DVDs, comics and books that either I've found on my own, or someone has sent in for me to review.
Naturally, Dulcie Younger and the Silencers are featured in the music section, but I also have a review of Image Comics' The Walking Dead! Please check it out and tell me what you think. I'll be adding a lot more over the next few weeks and months.
-If you're not a member of my Toxic Goddess Group, then you're missing some of the most interesting female models, dominatrix, writers and artists on the web. There's a steady stream of updates from these Goddesses and they like posting new pictures in the photo section too.
-Have you heard about the new Adidas 1? They contain a microprocessor that adjusts the cushioning of your shoes as you run. The price tag? Too fucking much ($250)! I think you need a microprocessor in your BRAIN if you buy that hunk of shit. How fast do you go through shoes? There's no way it's worth it unless you run for a living. Forget about adjusting your cushioning- if the Beefboy is going to spend $250 for a pair of sneakers, Adidas better promise that I get laid (and she better be hot)!
-How the fuck did Ryan Seacrest get a star in Hollywood? I'm not all about the End of Days or anything, but this has got to be a bad sign.
-The little 5 year old urchin in St. Petersburg, who stormed around, broke shit and was a general nuisance until cops handcuffed her, could have been taken care of with one simple act. Spank her! When she started acting up, you grab the little shit by the arm, lead her out to the hallway and blister her ass! Problem solved... almost. Because the little brat was unleashed on an undeserving faculty, when the mother of the girl arrived, she should have been spanked too! Now Al Sharpton is heading to St. Petersburg to weigh in with his opinion. Unless he backs up what I just said, Al gets a spanking too (I'm not doing it though... I know enough Dominatrix that I could get the job done).
-Has anyone considered sending Dog, the Bounty Hunter, and his husky wife, on a quest to find Osama bin Laden? Hey, now that's a reality show! I'd like to see Dog's wife get Osama in a headlock!
-We're getting closer to the sexy robots that you see in sci-fi movies. Some scientist has fashioned a sex doll that has a heartbeat, uses surgical latex for skin and can "wiggle her hips". Call the Beefboy when you create Priss from Blade Runner.
-Sad to hear about the death of the Cookie Monster. What? You didn't hear about Sesame Street's Cookie Monster dying? Okay, he's not gone, but like the Godfather says..."He's dead to me." Apparently, the Cookie Monster is going on a diet and claiming that cookies are a "sometimes food". Fuck that horseshit! I like cookies just fine, and I grew up with Sesame Street, but the two are NOT CONNECTED! Am I dreaming this sort of stuff?
-Also, Ronald McDonald is getting a make-over. He's going to have several new outfits, including, but not limited to, a tux, a basketball jersey and a beach suit. I'm sorry guys, but you can't disguise the fact that if you eat at McDonalds you're going to be a fat tub of shit (I should know). You can dress him in Speedos and have him played by Brad Pitt, but you're just putting a new mask on an old obese clown.
April 19, 2005
-It's the tenth anniversary of the Oklahoma City bombing. I've got a few things to say about that in my feature section.
-I just bought some music editing software. Does anyone know where I can get a hold of some open license music, to mix and mash?
-Thanks to my buddy Shawn, Allen and Irish Mike, who were nice enough to write in to me and tell me the name of the mystery hot chick. Her name is Veronica Zemanova!
Thanks guys, here's some extra pictures for you three, and everyone else. Let's just say that these are probably the cleanest pictures of Veronica on the internet. Not too hard on the eyes, right?
April 16, 2005
Hey baby! I'm making some chili today. Want some? Here's my recipe.
The Beefboy's Rockabilly Chili
5lbs of Ground Beef Baby!
2 medium yellow onions
4 cans of diced tomatoes and green chilies
4 small cans of tomato sauce
3 tbls of sugar
3 tbls of chili powder
2 tbls of cumin
2 tbls of crushed red pepper
2 tsp salt
1 bottle of beer (whatever you like the best)
Get a fat pot. Cut up onions into small pieces, add the beef and completely brown and drain. Take a sip of the beer, add all the other ingredients (including the beer), stir and simmer for about an hour (or as long as you can hold out).
Serve with Fritos, sour cream, shredded cheddar and a frosty brew!
-Okay, I'm calling it! Britney Spears has jumped the shark! What is Britney's one redeeming feature? Those abs- and now they're going... going... gone! With the marriage to some nobody nutsack and a little bundle of joy on the way, and a blatant rip off of Jessica Simpson's Newlyweds coming soon to UPN (not to mention her recurring slutastic redneck trailer trash antics), the Beefboy has moved her off my radar. Anyone else want to join the Beefboy?
-Congratulations to Prince Charles who managed to marry the ugliest woman in Britain. All I'm saying is, if the Beefboy had the title "Future King of England", I'd like to think I could pull a better chick than someone who looks like the fucking Jabberwocky.
-News Flash! The United States will cease to exist in 2007! How do I know that? Well, some Palestinian nutsack has interpreted passages in the Koran that he says suggests that the US will be destroyed by a tsunami. Don't buy your life raft yet. I'm more afraid of the destruction brought about by Josh Grobin getting radio play (because seriously, he sucks nuts... I'm saying that Josh Grobin, not only sucks nuts, but rolls them around in his mouth to compare and contrast their taste and consistency).
Dig it!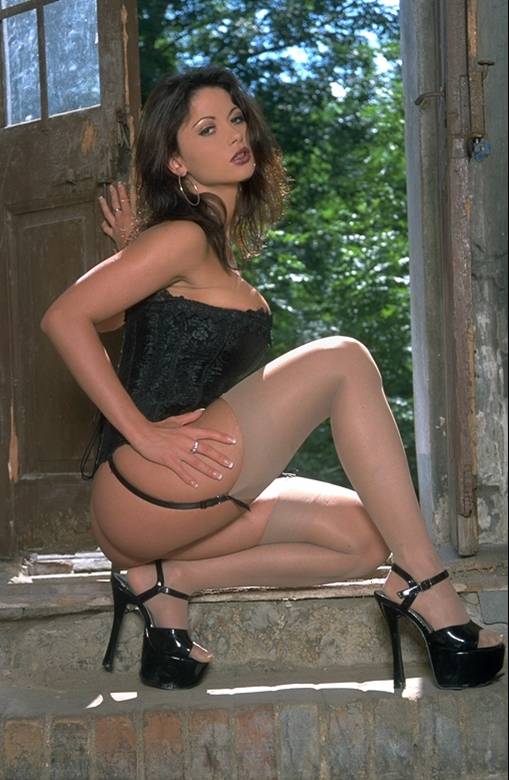 Hey, who is the girl above? Benny sent the Beefboy a Powerpoint presentation that starred this chick and I seriously need to know who she is... for scientific reasons, of course. (Thanks Benny!)
Email the Beefboy: me@thebeefboy.com
April 8, 2005
-New Nutsack of the Moment Kofi Annan!
-New Chick of the Moment Adrianne Curry!
-New video on the Beefboy's Kinky Juke... an unrated version of Prodigy's Smack My Bitch Up!
-Isabeli Fontana on Model Watch.
April 7, 2005
It's Dulciepalooza!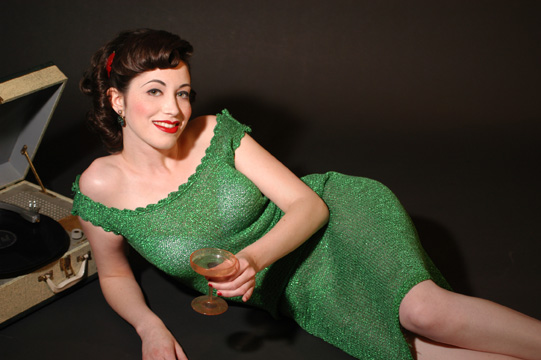 -Dulcie Younger has just been inducted into the Toxic Goddess Hall of Fame and there's more to come soon!
-The Octagon has been updated with a letter from my buddy Shawn.
April 4 , 2005
-Pardon the Beefboy, I'm feeling a little windy today.
-This month is Dulciepalooza! More soon...
-Thanks again, to all the Beefanatics! March had over 610,000 hits and I had so much traffic that I had to upgrade my hosting service. Holy nuts ahoy! That's good shit. Thank you all (tell your friends)!
-Michael Jackson recently compared his current struggle with the struggles of human rights icon, Nelson Mandela. The Beefboy is amazed at how "black" MJ has become recently. Suddenly, Jacko pretends he's an original member of Public Enemy. Fight the power, Michael?... Fuck you!
-Those crazy Russian scientists have confirmed something the Beefboy has known for a long time... corporal punishment is good for you! They report that regular caning can lead to weight loss, defeat alcoholism and cure depression! It can also enhance your sex hormones and enhance your immune response. So, the question I have for you is- who's going to be the first bad girl in line to take her swats? Master Beefboy is waiting...
-Who out there saw the premier wrestling event of the year, Wrestlemania? The Couch Pirates and I got together on Sunday and got ready to see the best that the WWE has to offer. Unfortunately, they didn't offer a lot. JBL got the quickest, most ridiculous chump job EVER. After holding the belt for almost a year, he just dropped it like a bowl of chili with a severed finger in it. What were they thinking? That's pathetic. Also, no tag teams, a useless match between Eddie Guerrero and Rey Mysterio, a boring match with the Undertaker and a slew of cheesy cameos, make Wrestlemania 21, one of the worst, if not, THE WORST, of all time. Weak Vince, weak.
-I also had an opportunity to see Sin City this weekend. Before I tell you what I thought, let me make some of my typically ingenuous observations. Apparently, some news story moved on the wire about the content of Sin City, and almost every conservative talk show host, had some inane comment about a movie THEY DID NOT SEE! Once again, let the Beefboy reiterate the fucking rules! First off, if you're a conservative, you don't get to comment on art. Period. Secondly, if you haven't seen the movie, you don't get to tell the Beefboy if it's good or not. See how simple that is?
Now, with that build up, let me say that I'm a big fan of Sin City- the comic. Robert Rodriguez had the stones to take the straight graphic novels and just use them as storyboards with dialogue. If you've read Sin City, you know what the dialogue is like. It's pithy noir-speak. I would suggest that, unless your name is David Mamet, Dashiell Hammett or Elmore Leonard, you might want to stay away from this type of dialogue in a movie.
You know those 80's Chuck Norris films, where right before, or right after, he kills some nutsack, he has a cute little line that he uses as an exclamation point? Well, Sin City is like a series of those lines as dialogue. After a while (a short while), it gets very very very corny.
Visually, Sin City is impressive and Mickey Rourke's segment is nearly good enough to suggest seeing the movie, but let's be honest. Only fans of the comic will enjoy this movie, and many of them won't like it either. However, this is a movie that could easily spawn a midnight movie phenomenon, so don't count it out yet. It's so bad, that's it's good.
-Bumper Bumpkins: I recently saw a sticker in the shape of a Chevrolet logo, but inside the logo was the stars and bars of the Dixie flag!
-Hail to the Minutemen! Want to know the definition of being good American citizens? The Minutemen is a group of patriots who have grabbed the guns off their racks and headed out to the Arizona desert to help the border patrol nab assholes who are trying to sneak over our border. They helped catch 18 yesterday! The Beefboy applauds the Minutemen! I hope your gesture is heard loud and clear in Washington.
-Speaking of the border, let's talk a bit about Mexican President Vicente Fox. He recently said that trying to secure our borders is "discriminatory" and "against freedom". The Beefboy thinks that Vicente Fox has forgotten that he is the leader of a third world country, and that he is merely the top ass-kisser for his nation. Every time he visits the U.S., Fox should bring some maize as tribute and beg us not to be angry! Since Fox is so concerned about discrimination and freedom, maybe we should bill Fox for the hospitals and schools that are dying from supporting his nation's illegal invaders. Better yet, we can tell him to suck our big fat swollen cock and have INS escort him back over the border!
Dig it!
March 22, 2005
-This month's Playboy Magazine quotes Angelina Jolie as saying, "I need more sex, okay? Before I die I wanna taste everyone in the world." The Beefboy is ready for his taste test darlin'.
-Politics makes strange bedfellows, and the Beefboy is about to munch carpet on Democrat Dianne Feinstein for her stand on our nation's borders. Among other things, she points out that our borders are swiss cheese and that, "it seems to me that if I were a terrorist and I wanted to come in the United States, this is the way I would do it." Holy nuts ahoy! Sounds like some national politician besides Tom Tancredo is waking up in Washington! Let's give the rest of congress a reality enema and start doing something besides playing footsies with baseball players up there!
-Would someone just kill Castro? Thanks.
-Poor little Wafah. Apparently, she wants to be a pop star in New York, but she can't understand why record execs look at her like she just asked to take their children to a sleepover at Jacko's house. Now, I could be wrong Wafah, but maybe it's the fact that you're the niece of the biggest fucking nutsack on the planet, Osama bin Laden! There's not a PR firm in the world that could help you out with that pedigree sister! Everyone on the planet can't (and shouldn't) be a pop star anyway. Go to Germany- if they love Hasselhoff, they'll take anyone.